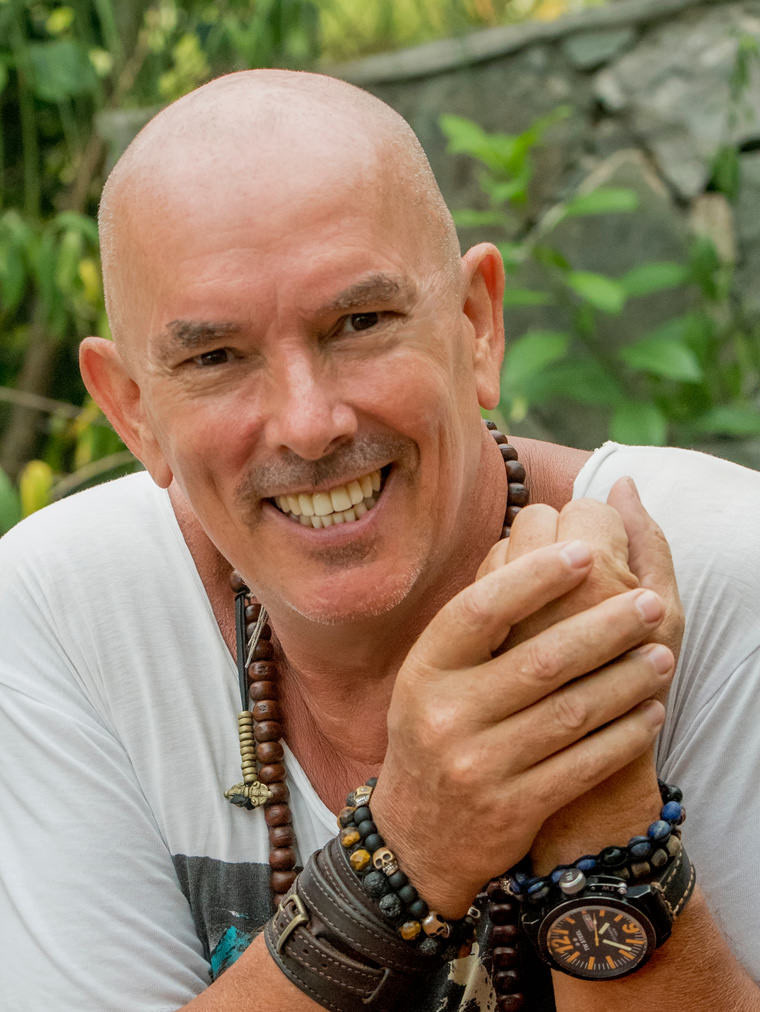 It's a bit of a cliche and a generalization, but professional photographers are known for being dark, introverted and taking themselves seriously. This is far from being true for Xavier Merchet-Thau, it is quite the opposite; an eternal smile expresses his zest for life. The pleasure he takes in doing his job is contagious ... taking a photo is a moment of happiness for him and that's what makes the difference.
Xavier is a Chti ... a guy from the north; at 18 years old he set off to explore the world. He is one of the few people who can say he was in the right place at the right time. 
He started working for the famous Club Méditerranée at its peak in the early 80s, as Go (nice organizer). The Go of Club Med were well known for being very lively and friendly, they were envied for a very liberal lifestyle, they traveled a lot, collecting love conquests. Sea Sex and Sun ..., ... they seemed to be on permanent vacation. At Club Med, he learned the profession of lighting designer and it was a revelation for him. He worked on all the village opening shows in some of the most beautiful places in the world for more than 5 years. Returning to France he settled in the red light district of Pigalle, he worked as a lighting engineer for two of the most fashionable clubs in Paris; the Bains Douches by Claude Challe and La Locomotive,the famous Place Blanche club, where rock bands and trendy evenings alternate. When he needs to rest his ears he lights up parades of people or television programs. 
However one day he is fed up with the gray sky and big cities and on a whim he accepts a contract which takes him to the end of the world in Uruguay. He will stay there for 10 years.
He moved to Montevideo and participated in the creation of one of the largest nightclub in South America then another in Paraguay ... but he wanted to go further, he moved to Punta del Este, le st tropez Latin. Xavier feels good there, he meets his wife with children there, he creates a fashion boutique, he imports materials to supply the restaurants and he continues to manage the lights for great shows and even to illustrate the presidential campaign. 
But the fragile health of his eldest daughter, forced them to leave everything and return to France to treat her. After several months of suffering from hospitalization, you have to work. Xavier follows the seasons as a photographer summer at sea, winter in the mountains in ski resorts. But the sea reminds us that he was hired as a photographer at Nikki Beach in St Barthélemy. The climate of the island is ideal for the health of his daughter and the small family packs his bags and joins him to settle on this small island. He quickly became independent, and created the photographic agency Photostbarth. People have fun, have a good time and leave with their memories on paper or in digital form. The idea is a success. Since he became the official photographer for Carole Gruson,the queen of nights of St Barth. He photographs all the celebrities who he finds at the Ti St Barth , his palmares is impressive, actors, producers, singers ... Kate Moos, Bono, Usher, our famous Johnny, all pass in front of his lens. Even if most of the events take place at night, Xavier always finds time during the day for fashions shoots, portraits of children or family on the paradisiacal beaches of St Barth. As he likes photography, he does a lot of it, architectural photos, pacshots for jewelers, reports for the community. He also works for magazines, the Vip de st barth, the Fine Magazine of San Diego. Weddings are also a big part of his activity, from the simplest to the most sumptuous, he captures the magic moments of the most beautiful ceremonies of the island.The best is yet to come, it is full of projects and always thinking of the future by training and investing in the latest generation of equipment. 
C'est un peu un cliche et une généralisation , mais les photographes professionnels sont connus pour etre sombres , introvertis et se prendre au sérieux .Ceci est loin d'être vrai pour Xavier Merchet-Thau, c'est tout le contraire ; un éternel sourire exprime sa joie de vivre . Le plaisir qu'il prend a faire son travail est contagieux ...prendre une photo est pour lui un moment de bonheur et c'est cela qui fait la différence .
Xavier est un Chti ...un gars du nord ; a 18 ans il part a la découverte du monde . Il est une des rares personnes a pouvoir dire qu'il etait au bon endroit au bon moment. 
Il a commencé a travailler pour le célèbre
Club Méditerranée
a son heure d'apogée aux débuts des années 80 , en tant que Go ( gentil organisateur ) . Les Go du Club Med étaient  bien connus pour etre tres animés et sympathiques , ils etes envies pour avoir un style de vie tres libéral , ils voyageaient beaucoup , collectionnaient les conquetes amoureuses . Sea Sex and Sun ..,.ils semblaient etre en vacances permanentes.  Au Club Med , il a appris le métier d'éclairagiste et ce fut une révélation pour lui. Il a travaillé sur tout les spectacles d'ouvertures de villages dans certains des plus beaux endroits du monde durant plus de 5 ans. Revenu en France il s'installe dans le quartier rouge de Pigalle , il travaille comme ingénieur lumière pour deux des clubs les plus en vogue de Paris ;
les Bains Douches de Claude Challe
et La Locomotive , le célèbre club de la place Blanche ou s'alternent les groupes de rock et les soirees branchees . Lorsqu'il a besoin de se reposer les oreilles il éclaire des défilés de monde ou des émissions de télévision . 
Cependant un jour il en a marre du ciel gris et des grandes villes et sur un coup de tête il accepte un contrat qui l'emmène au bout du monde en Uruguay. Il y restera 10 ans.
Il s'installe  a Montevideo et participe a la création  d'une des plus grande discothèque d'Amérique du Sud puis une autre au Paraguay ...mais il veut aller plus loin , il s'installe a
Punta del Este
, le st tropez latin . Xavier s'y sent bien , il y rencontre sa femme a des enfants  , il cree une boutique de mode , il importe du matériels pour fournir les restaurants et il continue a gerer les lumieres pour de grands spectacles et meme pour illuster la campagne présidentielle . 
Mais la santé fragille de sa fille aînée , les obligent a tout quitter et a revenir en France pour la soigner . Apres plusieurs mois de souffrances de d'hospitalisation , il faut travailler. Xavier enchaine les saisons comme photographe l'ete a la mer , l'hiver a la montagne dans les stations de ski. Mais le large le rappelle , il est embauché comme photographe au
Nikki Beach de St Barthélemy
. Le climat de l'ile est idéal pour la santé de sa fille et la petite famille fait ses valises et le rejoint pour s'installer sur cette petite ile. Il devient rapidement indépendant , et créé l'agence photographique Photostbarth. Les gens s'amusent , passent de bons moments et repartent avec leurs souvenirs sur papier ou sous formes digitales.l'idee est un succès . Depuis il est devenu le photographe officiel de Carole Gruson , la reine des nuits de St Barth . Il photographie toutes les célébrités souvent de passage au
Ti ST Barth
, son palmares est impressionnant , acteurs , producteurs , chanteurs ...Kate Moos, Bono, Usher , notre
célèbre Johnny
, tous passent devant son objectif. Meme si la plupart des événements se font la nuit , Xavier trouve toujours le temps pendans la journée pour des fashions shoots, des portraits d'enfants ou de famille sur les plages paradisiaques de St Barth.  Comme il aime la photo , il en fait beaucoup , des photos d'architectures , des pacshots pour les bijoutiers ,des reportages pour la collectivité .Il travaille aussi pour des magazines ,
le Vip de st barth
,
le Fine Magazine de San Diego
. Les mariages sont aussi une grande partie de son activité , du plus simple au plus sompteux , il capture les moments magiques des plus belles cérémonies de l'ile. Le meilleur reste a venir , il est pleins de projets et pense toujours a l'avenir en se formant et en investissant dans du materiel d'ultime génération . 
La beauté n'as pas de prix.